Discover the brands taking care of Earth's blue wonders
There are many ways to take care of our planet – it starts with little gestures like separating waste, using the obligatory hipster jute bag, and taking your to-go cup everywhere. Some walk the streets with demonstration posters, others are relying on conscious consumption. The latter group buys their clothes, lifestyle products, food, and more with high standards in mind. They are betting on sustainable practices, organic cultivation, fair trade, or carbon offsets.

For World Ocean's Day, we are looking into some brands focusing their responsible approaches onto the sea. While On Vacation, Salzen, Ekat, and Pama London are using recycled ocean waste for their collections, Revert quits the toothpaste tube by packing its sustainable pills within glasses. Kulson and Wonda Swim donate parts of each purchase to NGOs taking care of the littering of the seven seas. And Nobèl Cosmetics creates awareness for synthetical or environmentally harmful ingredients (like spermaceti made from whales) within the beauty industry. They show how to substitute these constituents with sustainable oils.

Even though for most of us, the ocean is just a holiday destination, we know it is so much more. Let's protect it by avoiding plastic packaging and bags whenever possible, by using less water, and by shopping more responsibly.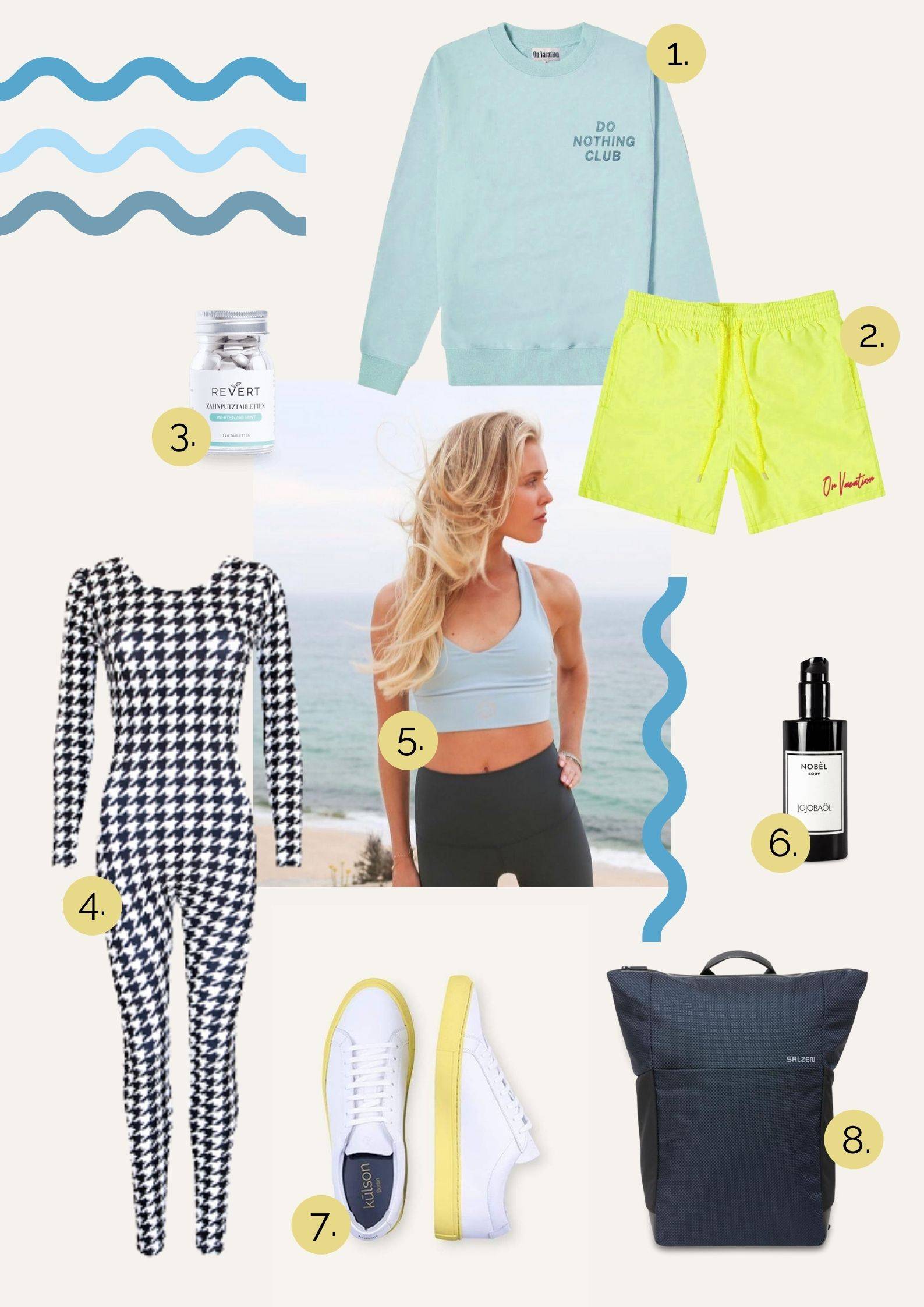 1. Do Nothing Club Sweater by On Vacation, 69, 99 Euro | 2. Swim Shorts by On Vacation, 39,99 | 3. Toothpaste Tablets by Revert, 15 Euro | 4. Houndstooth Bodysuit by EKAT, 130 Euro | 5. Yoga Bra by Pama London, 75 Euro | 6. Jojoba Oil by Nobèl Cosmetics, 28 Euro | Lemonlight Sneaker by Kulson, 229 Euro | Backpack Vertiplorer by Salzen, 199 Euro