Town Tales:
Hamburg with Souleway

Organic food, boat tours, great gin, and karaoke with the sustainable backpack brand Souleway
Hamburg, the major port city in northern Germany is popular for its cultural venues and high quality of life. No wonder the Souleway-founders Flemming Kühl and Hagen Streit chose it as their main location to create bagpacks, weekenders, wash bags and so much more. Besides fresh fish and adventurous nights at the Reeperbahn, the city provides a wide range of cultural and culinary experiences. Souleway takes us to the hotspots you shouldn't miss. Something to be excited about post-covid!
About the Brand
Flemming and Hagen chose to live and work in Hamburg not only to enjoy its lifestyle but also to realize their vision of conscious, fair and sustainable production. For instance, they are able to reduce carbon emissions through shorter transport routes. They also admire and support the work of craftsmanship, working closely with the Harkan Atelier, that has over 30 years of experience in textile and leather processing. All of their products are handmade and - just like Hamburg - they express the highest quality.
AENDRÈ is a café that wants its costumers to experience the beauty of healthy and delicious food. This space was created to connect with your friends and family while enjoying 100% plant-based dishes. Most ingredients are organic and mainly grown and harvested in the local area. Founder Janine emphasizes her and her teams' commitment to support passionate and local small makers and growers, who are producing sustainably. Due to Covid, they offer pre-order, come-by, and take-home, as well as Lieferando service. Find more information here. Their healthy and delicious dishes are created with passion and love!
Feeling strenghend and refreshed from AENDRÈ superfood, we need to satisfy our eyes and broaden our minds with some art. Deichtorhallen is the perfect place to inhale works of internationally celebrated artists. It is one of Europe's largest art centers for contemporary art, paintings, sculptures and photography. The monumental architectual design of open steel-and-glass structures are iconic and embrace a place for major exhibitions. Since 1989 numerous solo, thematic and group exhibitions have been presented, including Warhol, Picasso and Alice Neel. Due to the covid Deichtorhallen is currently closed, but the free, public guided tours take place online. Check out the program.
Did you know that Hamburg has more bridges than Venice and thus countless waterways? Therefore, renting a boat is a necessity to explore the city from a different perspective. There are various places to start from, for example, you can begin your journey directly at the Café Hansa-Steg for crusing on the Außenalster by pedal boat, rowing boat or one of the canoes. If you are brave enough, you can even rent a stand up paddling board. Here is a useful link to check out the many offers of boat suppliers.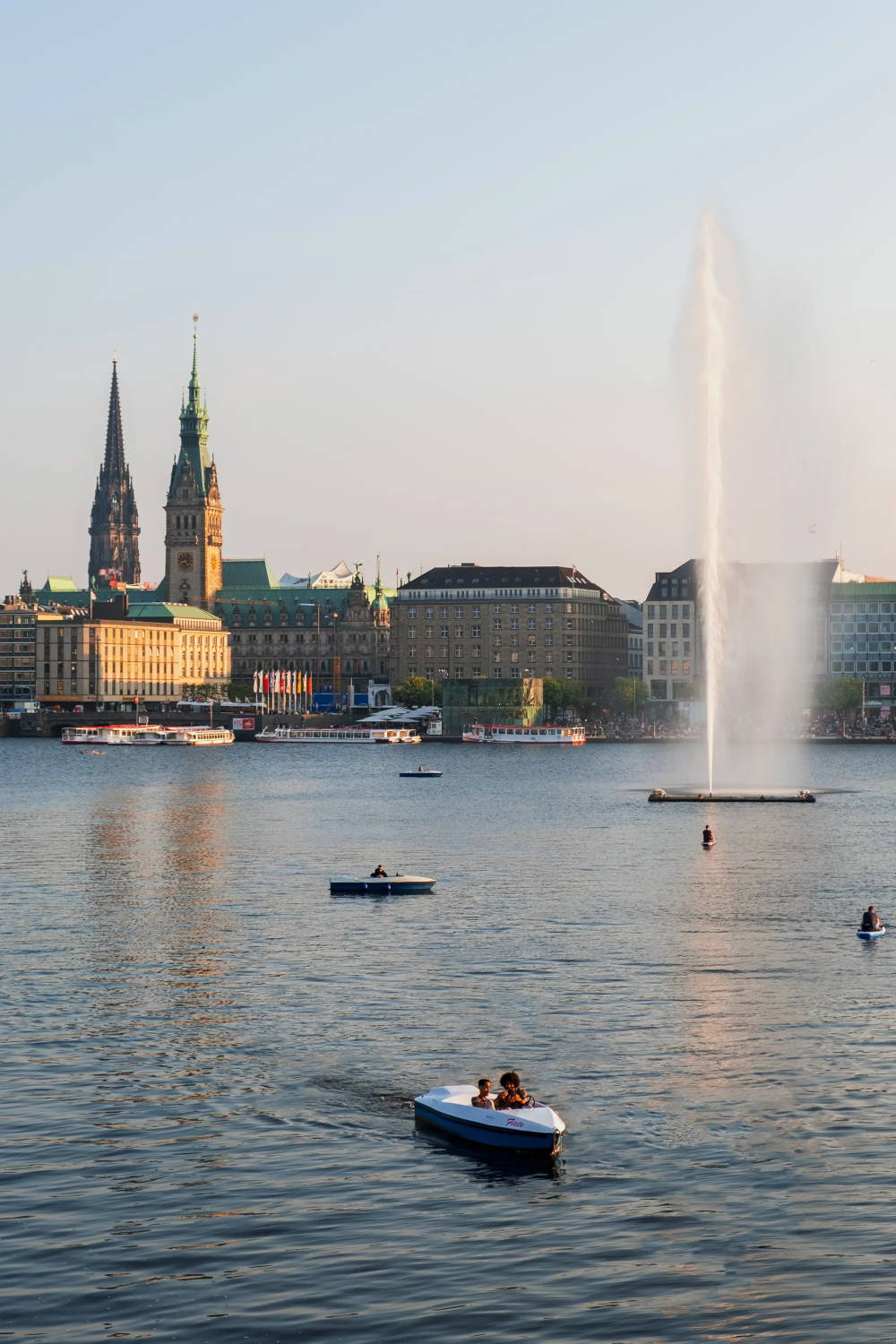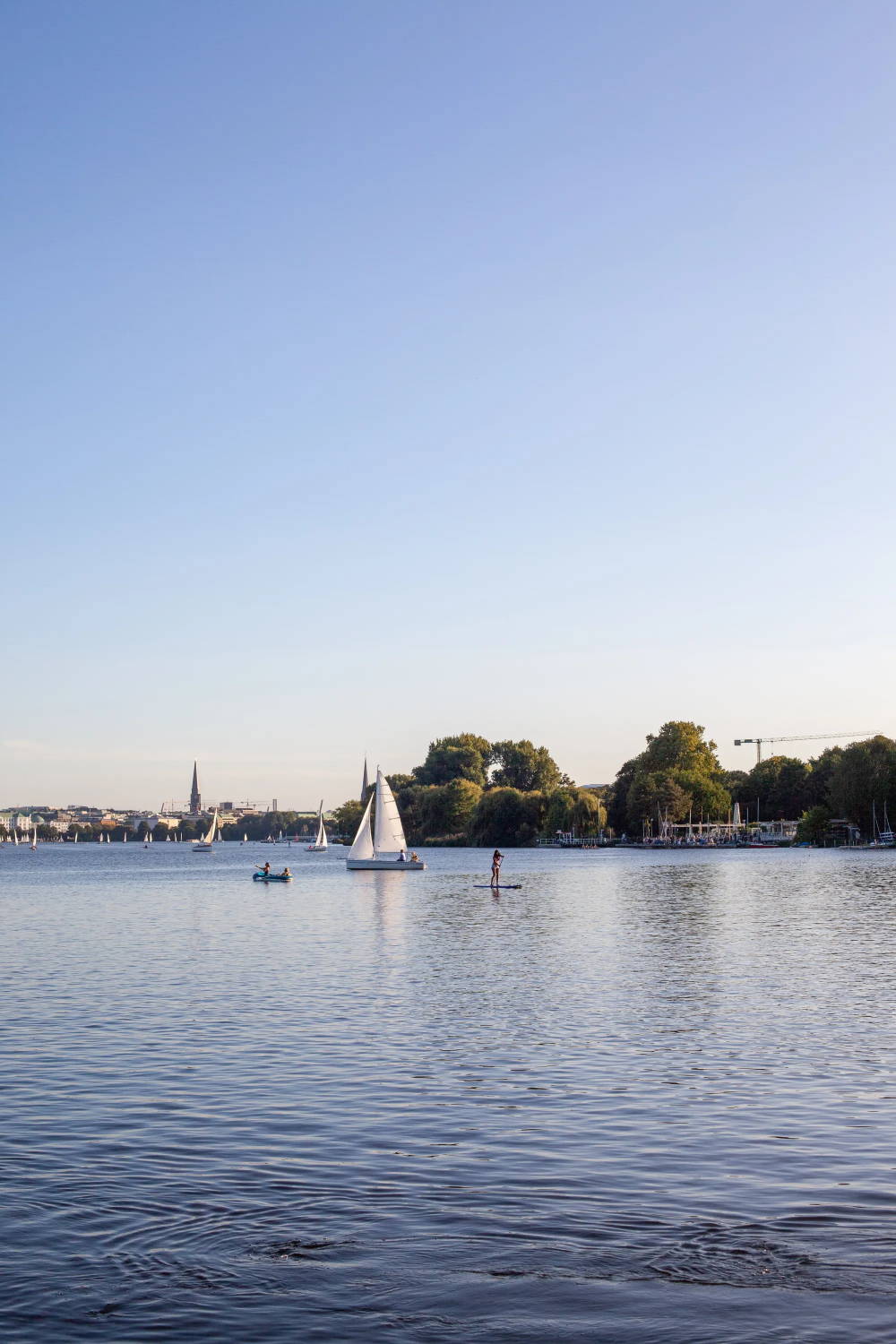 Walking around masterpieces of art and paddling through the Alster is fun but makes hungry. And Hamburg provides you with hundreds of places to choose from, and deciding for the right place can be difficult. Luckily, Souleway has the perfect advice to enjoy the most delicious food: Before dining, why not start with an aperitivo first? The italian bar-restaurant Standard has created the vision to cultivate starters and aperitivi before heading to the main meal. All drinks are accompanied by a daily changing selection of Stuzzichini, which comes from the Italian word for toothpick (stuzzicadenti), because the appetizers can usually be eaten with a toothpick. The Standard kitchen focuses on seasonal foods and daily changing bites.
Next stop is the cozy Krug restaurant, which is very popular among locals. As their slogan states: "Warm food, warm hearts - it's that simple", the Krug kitchen creates traditional German dishes with a twist, for example Smoked fillet of Helmsdorf trout with fennel-orange salad and horseradish-tarragon cream. Krug offers delivery service every Friday and Saturday. Check out their menu here.
Fancy a drink? The Clockers Hamburg bar delivers the gloomy atmosphere you hope to find for any romantic evening. No wonder, the Guardian counts it as one of the top ten places to visit in Hamburg. The bar is especially popular for their own distilled Clockers Gin, perfect to drink in a "gin basil smash" cocktail. And if you have the time, check out the two hours Gin Tastings, which give an introduction to the aroma world of botanicals.
How to best end a family weekend trip, birthday or romantic date? Souleway's answer is KARAOKE! Having enjoyed loads of spicy cocktails at Clockers, you will hopefully be brave enough to chant "Wonderwall" by Oasis or Robbie Williams' "Angels" at the famous Thai Oase karaoke bar, located in St. Pauli, close to the Reeperbahn.
Read more Town Tales like the Souleway one here!