Town Tales: Copenhagen with Messy Weekend
Art, good food and an immersion into nature with Messy Weekend
Messy Weekend is an eyewear brand based in Copenhagen, whose team is made of young, international and talented people driven by their passion for fashion, design and eyewear. Their products range from sunglasses to snow goggles, are inspired by Scandinavian minimalism, and comply with the highest standards of design and quality. The team's enthusiasm for music, skateboarding and skiing is an inherent aspect of the brand core aesthetics, and has translated into several projects and collaborations with local brands, such as "MessyMusic" or "MessySkate." And since Copenhagen is naturally integral to every pair of eyewear Messy Weekend makes, we asked the team to bring us along on a tour to discover their city and what it is about it that inspires them so much!
Breakfast at Juno the Bakery
Positioned on the ground level of a residential building in the Østerbro district, Juno the Bakery is an award-winning bakehouse that seamlessly combines the artisanal, traditional craft of baking and the contemporary, minimal, sleek Scandinavian designs. Among their staple pastries you can't miss, the traditional cardamom rolls, perfectly crispy croissants, seeded rolls with Comté and the local tebirkes (poppy seed pastry).
A morning stroll along the Amager Strandpark
The Amager beach park is a seaside public park located just 5 km from the city centre on the island of Amager, easily reachable by bike or a short metro trip. All year round Amager Beach Park is the perfect location for all kinds of cultural and social events, from concerts to big gatherings, sports events or simply private relaxation. And in the summer, the iconic park turns into the best spot to spend the long Copenhagen warm days and bright evenings. From the beach you even have a view of a windmill park and the Øresund Bridge, which connects Denmark to Sweden. Unmissable!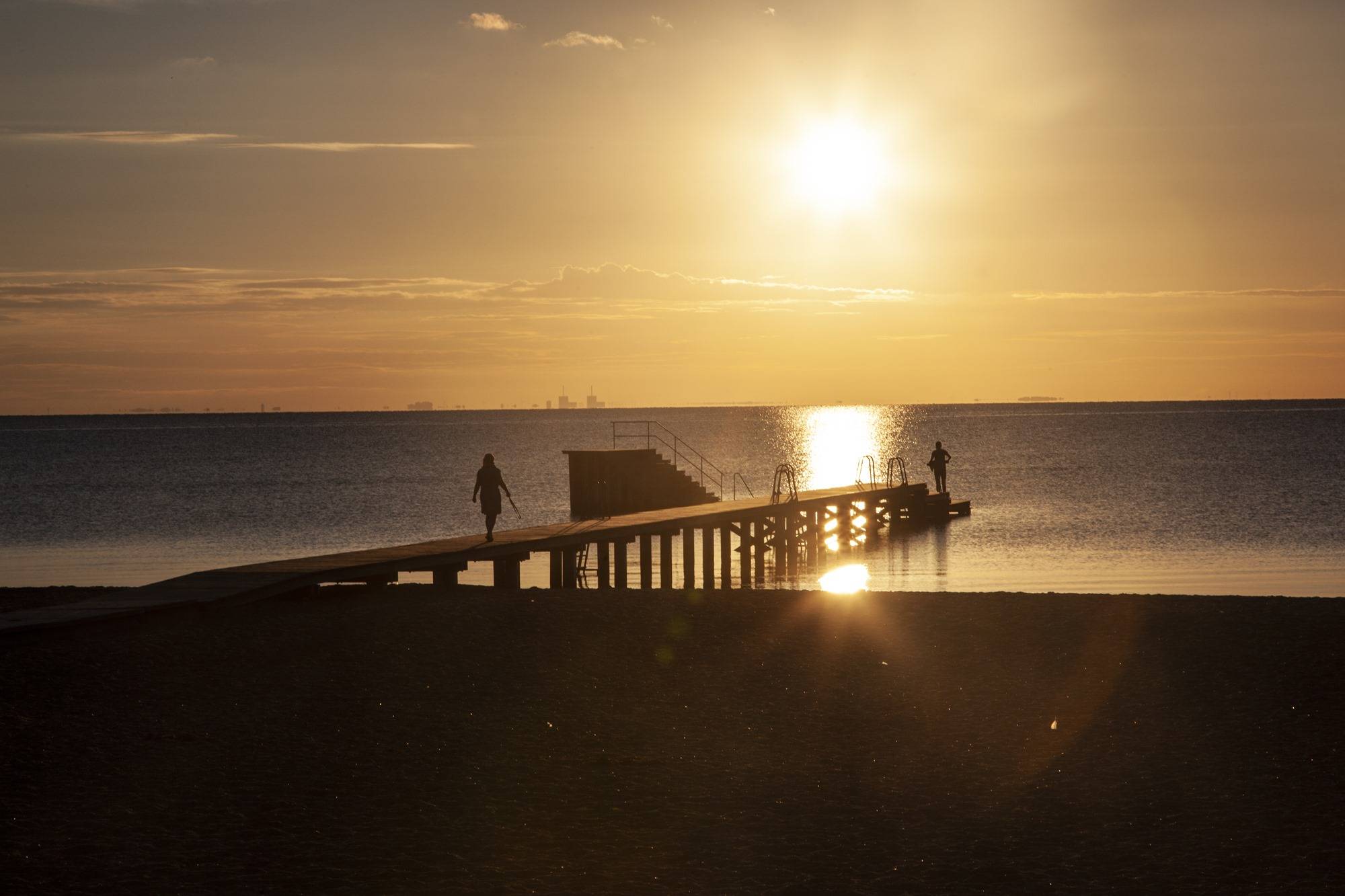 A cozy walk among the city's Loppemarked
Flea Markets are a lovely way to spend a bright sunny day, whether you're looking for something special or just enjoying the relaxed atmosphere and chattering of people around. Copenhagen has many of them, each one special on its own, showcasing the best vintage finds that the city can offer!
Lunch at Reffen Street Food
Reffen is an urban playground for co-creation, innovation, food and creativity which hosts the largest street food venue in the Nordics. Here, chefs from 18 different nationalities and creatives come together to share their passion for good food and craftsmanship, offering a platform for the community where all forms of expression can thrive, whilst committing to reducing waste and being sustainable. A great spot to get a quick lunch and your daily intake of artistic inspiration.
A walk in the beautiful Frederiksberg Have 
The Frederiksberg Gardens are among the largest and most attractive greenspaces in Copenhagen. The garden is a romantic landscape designed in English style that was commissioned by King Frederik IV in the late 17th century. It includes winding paths, canals, lakes, follies, waterfalls, grottos, small islands and magnificent trees and plants that are home to a large variety of birds. And from here, if you're lucky, you can spot the elephants from the Copenhagen Zoo while taking in the beautiful surroundings.
A visit to the Louisiana Museum of Modern Art
Opened in 1958 by its founder Knud W. Jensen, the museum was originally designed to be a home for modern Danish art but it soon became a platform to display many internationally renowned works. The Louisiana Collection comprises about 4,000 works, covering the period from 1945 to the present and including almost every genre, with an emphasis on painting and sculpture. Among the world-famous artists featured are Alberto Giacometti, Yves Klein, Warhol and Lichtenstein; the Germans Kiefer and Baselitz; David Hockney and many others.
Dinner at Gro Spiseri
Gro Spiseri is the natural extension of the ØsterGRO project, a rooftop farm established on top of an old car-auction house in the heart of Copenhagen's Climate Neighbourhood, and organized as a community-supported agriculture which sells its produce to its 40 members. The restaurant is run by a small team of chefs and staff who love creating a communal and informal food experience, based on organic products delivered from local growers, producers and hunters.The food is served 'family style' on shared plates, while you sit at a long table in the midst of a cosy greenhouse. Moreover, the element of surprise is always guaranteed since the menu is kept secret and changes according to what is available, and it's always accompanied by a good selection of natural wines, beers and non-alcoholic drinks. A hidden gem that you wouldn't want to miss on your next trip to Copenhagen!