by Eliza Edwards of Slow Exposure
Eliza Edwards is a Berlin-based journalist and writer specialising in sustainable fashion. She is also the founder of Slow Exposure, a platform that provokes thoughtful consumption within the fashion industry:
In a recent New Yorker article the journalist Elisabeth Zerofsky explores "The Causes and Consequences of Berlin's Rapid Gentrification" – she describes the way in which Berlin has exponentially grown over the years; for better or worse, we remain somehow divided. As a half-German, I have always struggled between the sensation that I've arrived home and the feeling that I'm a pawn in the game of gentrification.

Growing up in English suburbia, I was used to chain restaurants: Pizza Express, Costa and Woolworths. Only once I moved to Berlin did I realise how omnipresent those capitalist behemoths had become. Walking the streets of Kreuzberg, I saw a neighbourhood ​determinedly​ holding on to an alternative way of existence.

As a writer who often spends days working alone, I selfishly crave close, personal contact with the people in my "Kiez"; those who work in the package-free store next to my house, the people who run the flower shop, or my wonderful elderly seamstress who fixes literally anything I bring her. However, as the years have gone on, I have become increasingly aware that going to the speciality coffee shop on a Sunday morning means that my seamstress is met with the ever-increasing pressure ​of higher prices for daily goods and, in turn, higher rents​. So it is with some trepidation that I present my list of favourite spots in Kreuzberg, Berlin. Some are the product of gentrification, some have managed to avoid the soaring rent prices, but all are part of my Berlin existence and uphold environmental standards I deem vital.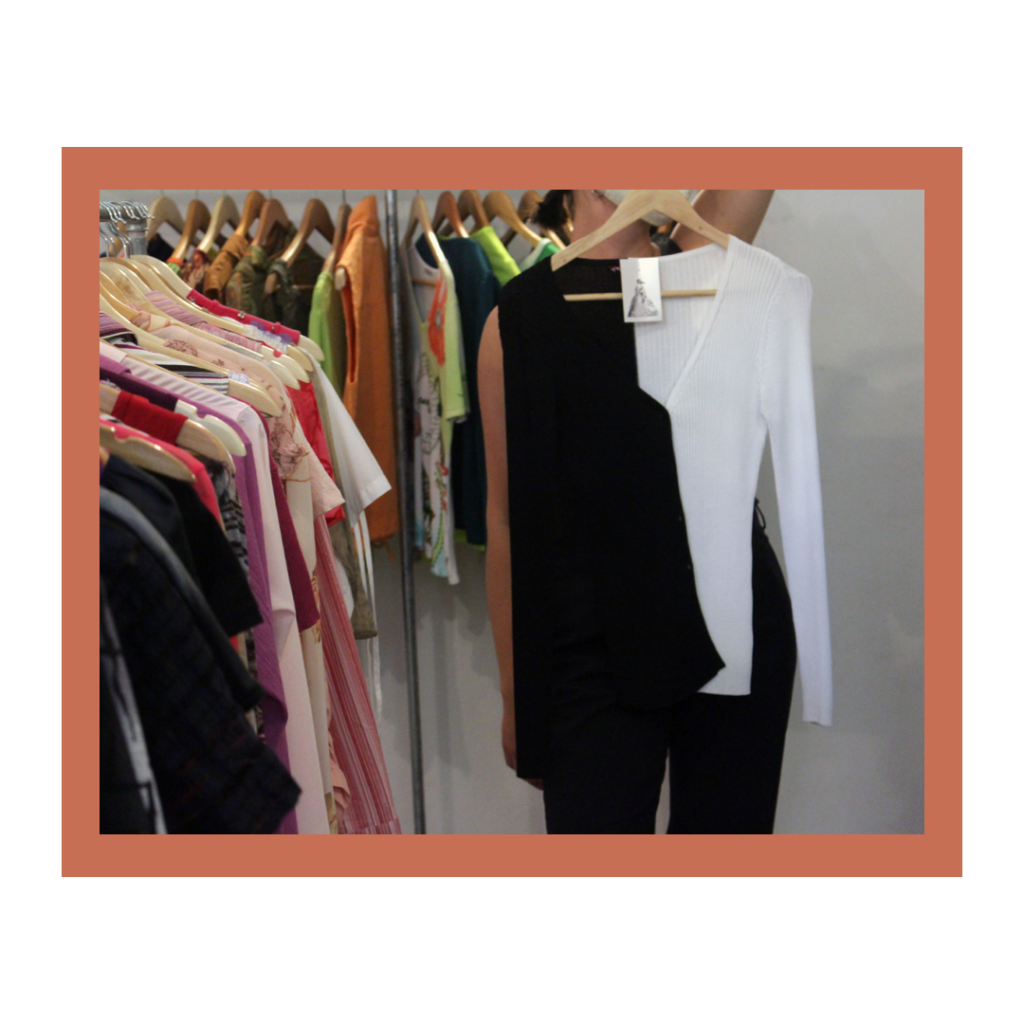 The Good Store – Pannierstraße 31, 12047 Berlin

My favourite second-hand store in Berlin. The founder, Gerda, and I work together so I've really become to understand the process that is selecting preloved clothing. She has recently released her own collection, Good: beautiful pieces constructed from deadstock fabrics.
Juno Juno – Weserstraße 165, 12045 Berlin

A good spot for party pieces in Weserstraße, a treasure trove for vintage.
Seamstress – Reichenberger Str. 142, 10999 Berlin

Everybody needs a ​seamstress or seamster​. Our culture has become so used to just throwing things away. The elderly owner and I have developed a friendship which I truly value, the store seems to stand still in time whilst we whizz past at an unhealthy speed.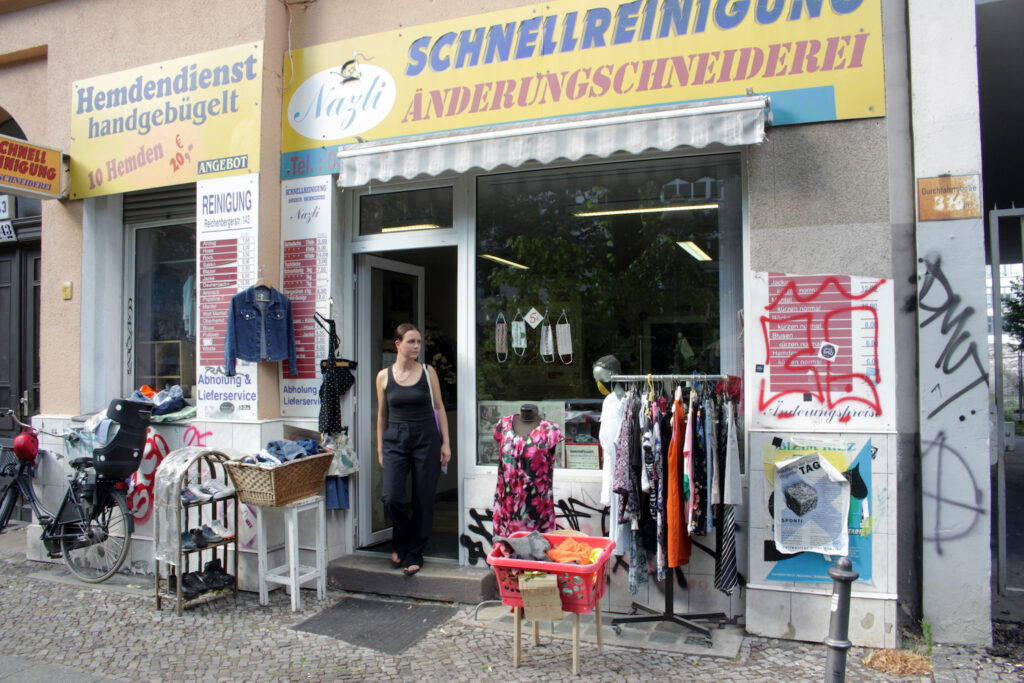 Loppis Vintage – Weserstraße 167, 12045 Berlin

Vintage can be really overpriced which I find to be pretty problematic. The owner, Agnes, is all about accessible pricing and beautiful pieces selected from her home turf, Hungary.
Sing Blackbird Vintage – Sanderstraße 11, 12047 Berlin

This vintage store is a cornerstone of Kreuzkölln Vintage, I think I have three pairs of black trousers from here. Despite the colourful curation, it's a good spot for essential pieces.
Life Berlin – Maybachufer 39, 12047 Berlin

Went for the first time a few weeks ago; nothing beats being in Japan but their vegan ramen is for sure the best in Berlin.
Chi Chu Berlin – Lausitzer Platz 14, 10997 Berlin

One of the most underrated spots for tofu in the city. They have a tofu and tomato dish for 6€, I was nervous they wouldn't pull through as a result of COVID-19 but thankfully their doors are still firmly open.
Kitten – ​Friedelstraße 30, 12047 Berlin

New spot on Friedelstraße, delicious vegetarian menu. The owner Ngoc, who owns Katie's Blue Cat next door, has a real knack for combining good food with interesting interiors.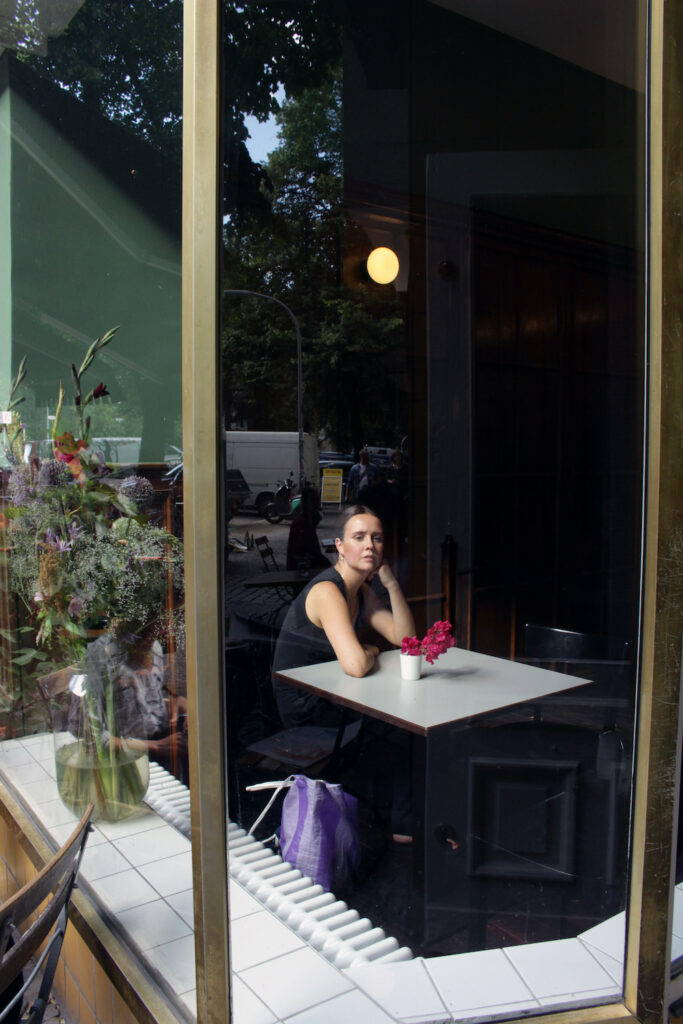 Witz Hummus – Blücherstraße 37, 10961 Berlin

I'm almost reluctant to share this spot because it's tiny and fills up quickly but the thought of their hummus with aubergine is making me peckish.
Original Unverpackt – Wiener Straße 16, 10999 Berlin

I'm always struck by the packaging in supermarkets when I'm back in the UK. Stores like Original Unverpackt are such a great way to be more conscious about waste and I think evoke an increased sense of awareness about what we're putting in our bodies.
BTTR – Adaptogenic Drinks – Dresdener Str. 18, 10999 Berlin

A new spot I only discovered recently, speaking to the owner I was impressed by their dedication to locally sourced ingredients and emphasis on zero waste.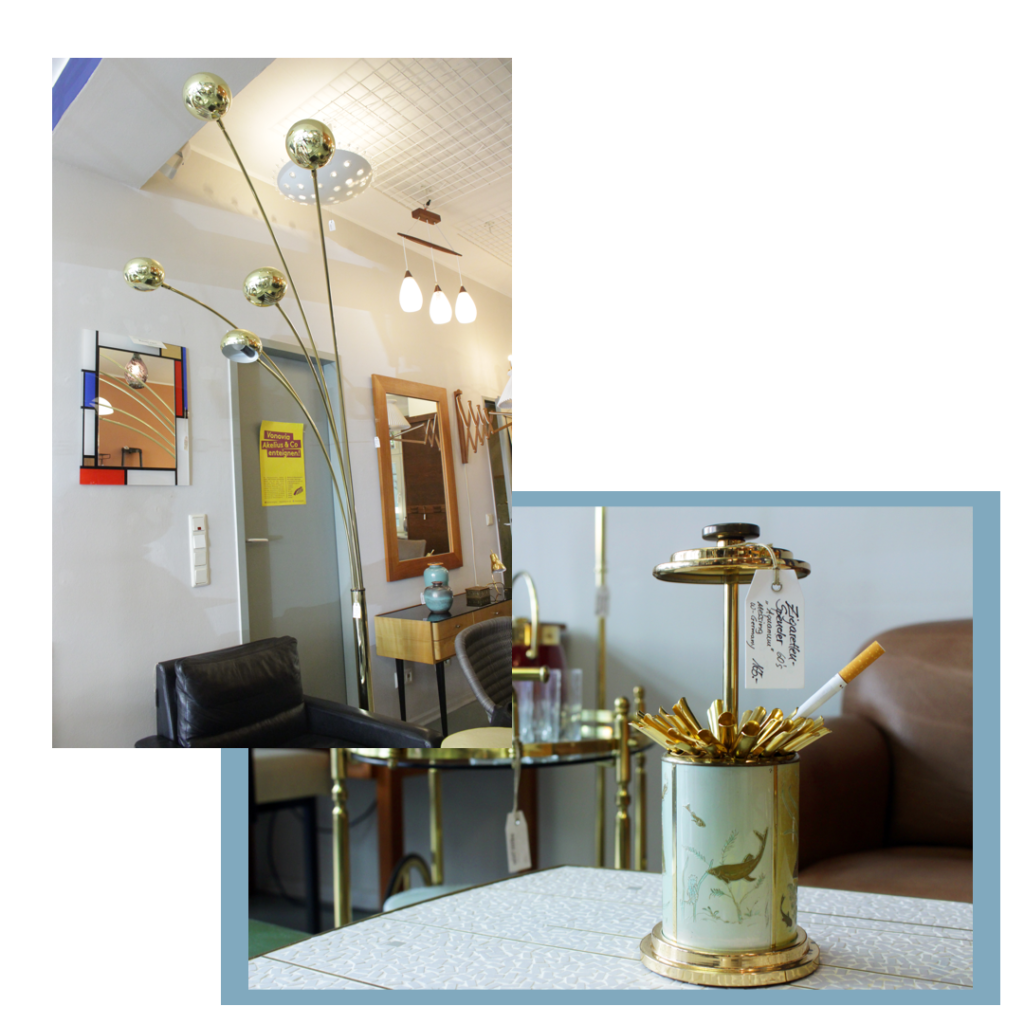 Regenbogen Fabrik – Lausitzer Straße 22, 10999 Berlin

A wonderful community in the backyard on Lausitzerstraße. Next to a cafe run by volunteers, you will find a bike repair shop, woodworking studio and a kita. I feel a great sense of being grounded whenever I spend time there. Last week we hosted a fundraiser flea market in their backyard for the organisation Black & Pink: ​a United States prison abolitionist organization supporting LGBTQ and HIV-positive prisoners.
Atelier HoheSee – Böckhstraße 48, 10967 Berlin

A collective of ceramic experts, the pieces are of exquisite quality.
Vintage Living – Oranienstraße 169, 10999 Berlin

Good stop for vintage that elegantly circumvents the mainstream Danish mid-century style.
Umbras Kuriositätenkabinett – Graefestraße 18, 10967 Berlin

The translation Curiosity Cabinet couldn't be more accurate for this book store. The inside of a second-hand book is a great smell.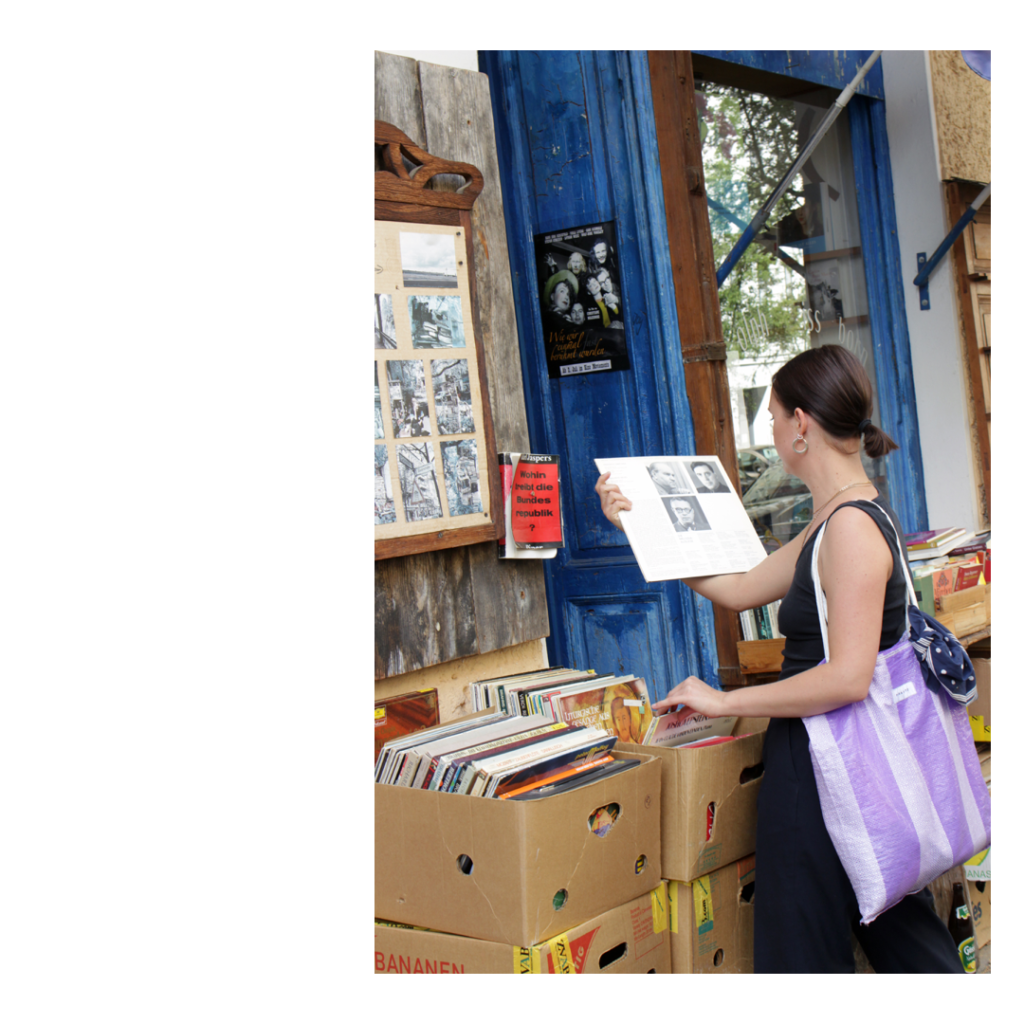 Vintage Galore – Sanderstraße 12, 12047 Berlin

I don't know so much about the interiors world and sustainability but I do know that saving for a few months to purchase a lamp from Vintage Galore will guarantee a triumph over a last-minute Ikea purchase.
BLUME&RAUM – Lausitzer Str. 26a, Eingang Paul-Lincke-Ufer, 10999 Berlin

This flower store in Kreuzberg endeavours to source locally during the summer months. The garden in the front is enchanting and I stop and gaze in whenever I walk past. Stopping and gazing is something we can all do more of.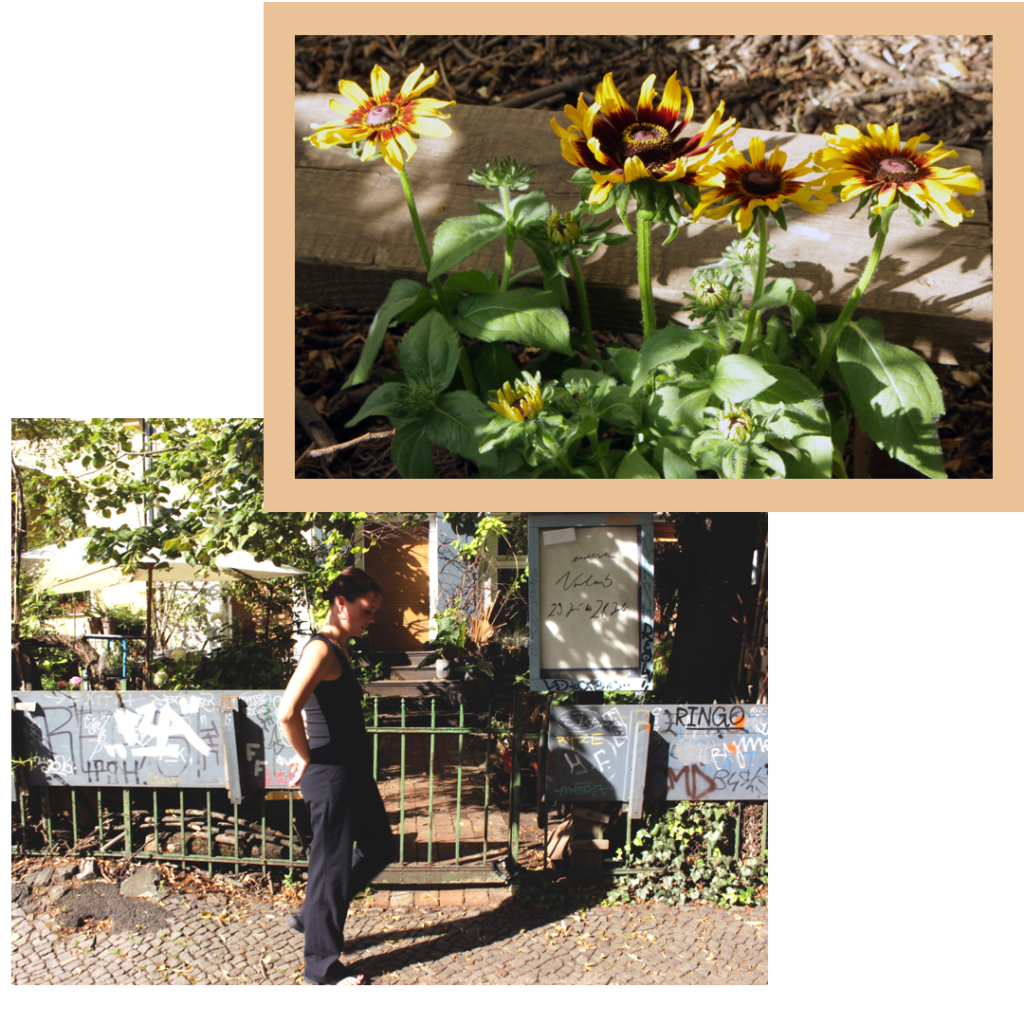 Read the interview with Eliza here!