5 upcycled and recycled brands that should be part of your conscious closet
We are done with Fast Fashion and season dependent styles! These five brands will update your wardrobe for this year's summer and all these who are yet to come! While some recycled pieces are made of reusable fabrics, usually won from PET- or fabric-waste, the upcycled items are created out of pre-existing materials or clothes.
Check out Yun Berlin's stylish sunglasses from the bio-acetate collection. Put on a pair of comfortable Flabelus slippers – the perfect dabs of colour for your summer outfit. LLR Studio presents tasteful earrings, bracelets and necklaces that will become your new, unique favourites. In addition, Pama London's Yoga leggings motivates you to meditate with a conscious mind, and SALZEN's useful bagpacks are just waiting to become your new urban companion! Recycled or upcycled these products were made to make you happy for a lifetime.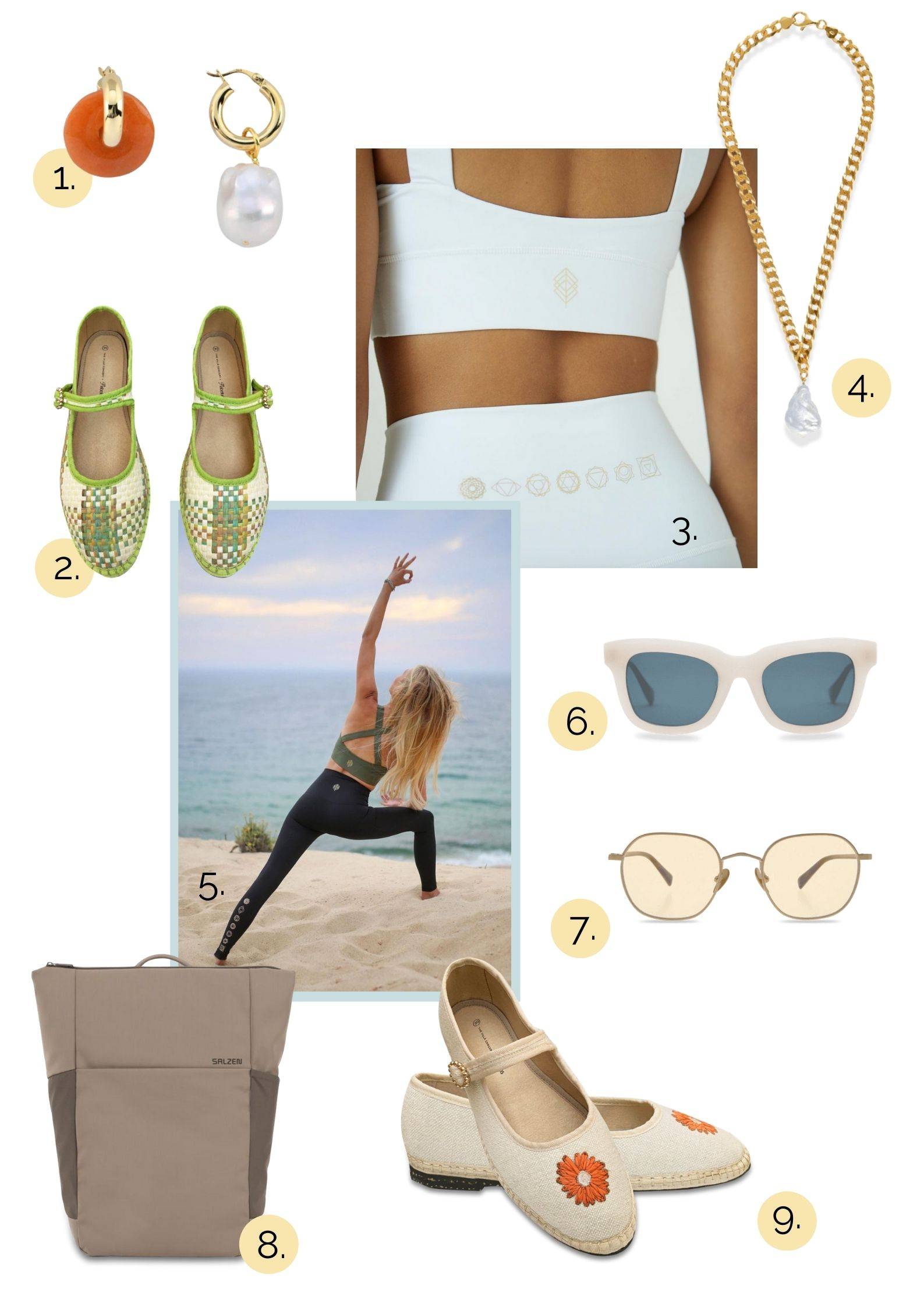 1. Creoles Medium Orange Aventurine by LLR Studios, 235 Euro | 2. Lady Green Slippers by Flabelus, 120 Euro | 3. White Balance Chakra Bra by PAMA London, 86,59 Euro | 4. Statement Link Chain by LLR Studios, 349 Euro | 5. Chakra Leggings by PAMA London, 111 Euro | 6. Waldo Cream Sunglasses by Yun Berlin, 99 Euro | 7. Falk Gold Sunglasses by Yun Berlin, 149 Euro | 8. Vertirplorer Backpack by SALZEN, 199 Euro | 9. Lady White Slippers by Flabelus, 120 Euro
This brand produces hand luggage of the highest-quality. Salzen always strives for a balance between attractive materials and sustainability. When selecting their fabrics and leathers, they put great effort on only sourcing those materials that, after careful examination, convince them visually, haptically and qualitatively. They have been using PET-recycled materials from an early stage of production. Their leather exclusively comes from Germany, as well as inspected tanneries within the EU, taking care of the environment and producing in a resource-friendly manner. All of their materials is treated with a PFC-free water-based coating, which further maximizes the already high robustness and durability of the minimalistic backpacks. The lining of SALZEN's fabric and leather backpacks is made from durable materials that are 100% recycled PET bottles. The same goes for the water repellent fabrics lining their useful travel accessories. The perfect luggage for your next trip – post Covid!
Sunglasses have the power to turn your outfit into a real eye-catcher! This is why we are in love with Yun Berlin's new bio-collection. The clue is, that the brand uses bio-acetate, that looks like regular acetate and is just as strong, but is made up of natural wood and cotton pulp. This material uses eco-friendly plasticizers instead of phthalate plastic, making it possible to be recyclable and biodegradable at the same time. With this collection, YUN seeks to create affordable and environmentally friendly frames to help reduce the consumption of plastic.
Flabelus designs timeless, friulane inspired shoewear that is handcrafted with love by Spanish artisans. The comfortable creations combine delicate simplicity with responsible production. Moreover, the immense variety of colour combinations, shapes as well as differing fabrics fit to every outfit and suit every personality. The brand is seeking to produce the stylish slippers in a responsible way. Their aim is defined by two fundamental values: Social sustainability and ecological sustainability.
Therefore, they work with a centennial technique, that is called 'the espadrilles' manual way of sewing' for the basics of the shoes. Furthermore, all their shoes include recycled, handmade, and 100% vegan materials, whereas the sole is made of recycled bike tires. These materials require a much lower volume of water and chemicals for their production which is in line with their company strategy of producing organic and environmentally friendly products. Additionally, their packaging is of recycled and recyclable cardboard and the bags are made of recycled cotton.
PAMA London creates functional active wear with a conscious mind. The brand aims to create ethically produced, timeless and high quality pieces that ensure you feel good in and out of the studio. They exclusively use eco-friendly fabrics and sustainable practices to create high performance, fit to form, fashion forward active wear. The latest 'Moon & Star' collection is produced with ECONYL, an upcycled material made from plastic bottles pulled from the world's Oceans – translating into 'no new resources' and 'no waste'. The fabric joins the previous sustainable materials which include recycled charcoal bamboo nylon and super soft organic cotton. Representing the moon cycle and astrology, the collection is designed to be timeless with cosmic influences.
LLR Studios is a Hamburg based brand founded by the sisters Lena and Luisa Rotetzki, offering stylish jewellery to complete your daily outfit. LLR Studios follows one set of goals: To become your personal timeless, unique favourites which shine with understated grandeur.
The designers only use recycled silver and gold for their jewellery. Furthermore, they purchase natural gemstones and pearls grewn under strict quality regulations. Responsible and stylish. Timeless and trending. The jewellery you want to leave your grandchildren behind.