How to Boost Your Immune System This Winter
Help-kit to up your cold-and-flu protection game
It's that time of the year again, when the common cold and all those nasty flus are out to get you. Have you ever been in the middle of fighting an illness, and caught yourself thinking "well, let's never do this again". Never is a strong word, but there are natural ways to keep our immune systems high-functioning. Although vitamins and mineral supplements can´t replace a healthy diet, they play an important role in keeping the body healthy during the time of limited daylight hours. Not to mention that tea is back on the menu! Discover herbal teas packed with ancient secrets and ease your winter blues over a nice cup of deliciousness.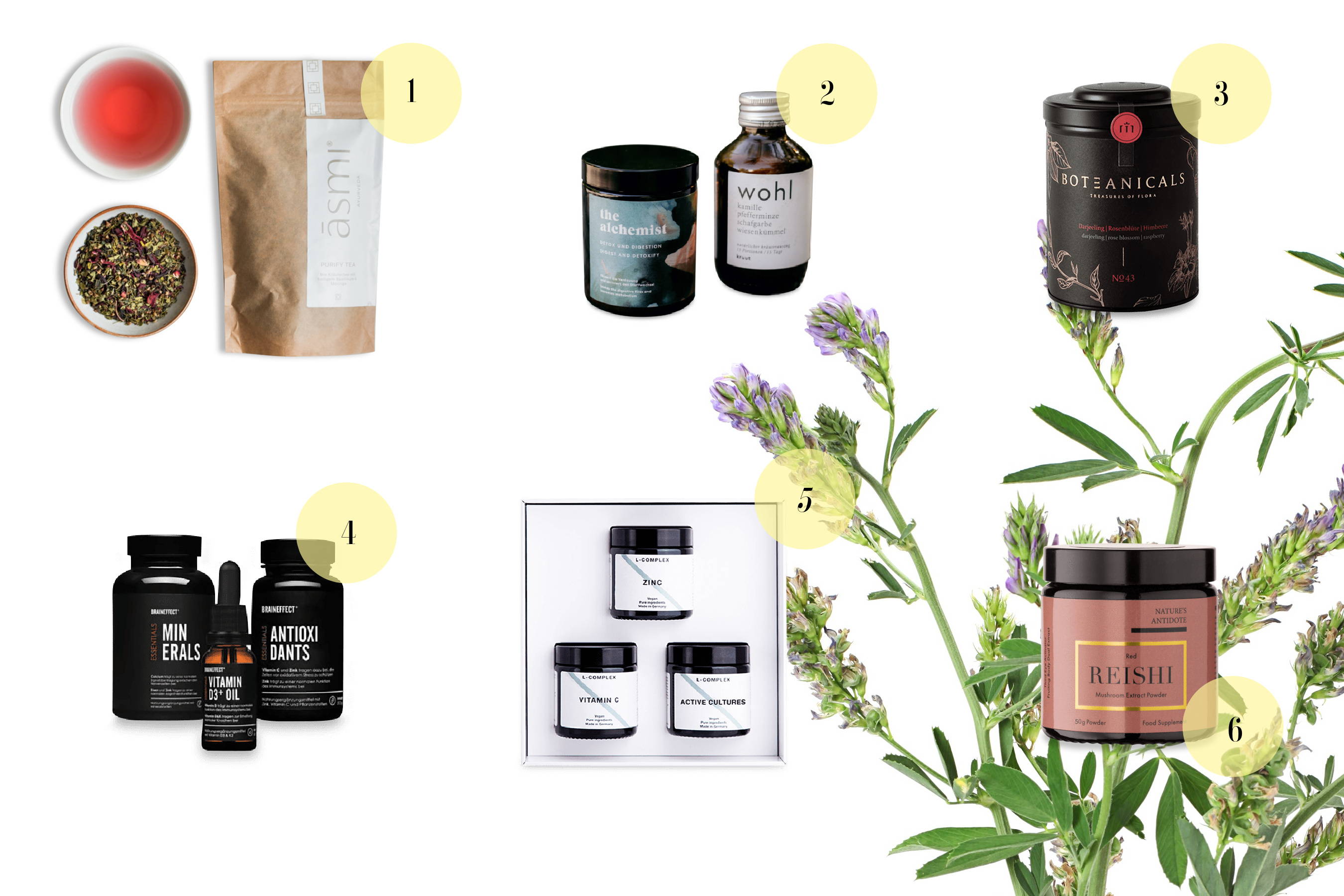 The Purify tea is a real wonder. Its spicy and at the same time sweet note offers a full-bodied taste, and has a positive effect on the whole body. The herbs used make this tea are just the right companion for you during a detox cure, cold or a conscious lifestyle.
The ingredients and their effects according to Ayurveda:
- Hibiscus (helps with inflammation, high blood pressure and colds)
- Tulsi (Indian basil, a popular herb used for various remedies in Asia)
- Moringa (the horseradish tree is one of the most nutrient-rich plants in the world)
- Nettle leaves (are rich in calcium, iron and protein)
Preparation: Pour 200 ml of boiling water over 1.5 g of tea and let it strain for 5 minutes.
2. LA Cold Press The Alchemist
The Alchemist supports your body's own internal lab for optimum use and absorption of nutrients. The clever blend of ayurvedic herbs include benefits such as : increased metabolism, gastro and digestive balance and a sense of overall well-being. This powder blend consists of : turmeric, triphala, cinnamon, lucuma and black pepper.

Serving per container: 30, Serving size: 1 tsp (3 g) per day

Use: Blend a small spoon full into hot water, tea, juice or smoothies
3. Boteanicals No. 43 Darjeeling - Rose Blossom/Raspberry
Boteanicals high quality organic ingredients are selected by hand in the gardens of the world. They only use natural aromas if they serve to optimally emphasize the taste of a single component within a composition. Our pick from their large selection of teas has a flowery blend which brings together the delightful muscatel flavour of Second Flush Darjeeling, delicately scented rose petals and a subtle sweet-sour taste of ripe raspberries. Simply divine!
You´ll find many important nutrients bundled to this product package that will help to give your body what it needs and focus on the really important things in your life: your goals.

The VITAMIN D3+ OIL provides you and your immune system with smart combined and high doses of vitamin D even on long days in the office without a balanced diet.
MINERALS provides you with an extra portion of zinc. Combined with the right portion of iron, which supports your concentration as well as your immune system.
ANTIOXIDANTS are your perfect complement for nutrient power. The smart mix of numerous fruit and vegetable extracts and vitamin C from Camu-Camu complete your daily immune care.


Another Immune Box has found it´s way to our list. Because if not now, then when? L-Complex´s 3-month Immune Box includes Vitamin C, which supports your normal immune system in these challanging times to become more functional. Zinc, which protects your cells from oxidative stress and ensures a normal acid-base metabolism. Active Cultures is there to promote a normal level of living bacterial cultures in the gastrointestinal tract.
6. Nature´s Antidote Reishi Extract Powder
Red Reishi is a powerful adaptogen and has been used in Traditional Eastern Medicine for thousands of years. Adaptogens help the body and mind to function in a more harmonious way, while enhancing our ability to heal and repair as well as to cope with stress. In fact, Reishi is commonly prescribed by herbalists as a natural anti-depressant.