Five Faves:
Hand-Made Interior
5 modern hand-crafted interior
It has been a year, and we are still in home office – so might you. What started with banana bread baking, and board game nights quickly turned into drying rack-surfeit, and a storage-crisis followed by redecorations. Who now arrived at the latter phase, might appreciate some conscious interior inspiration. We gathered some of our favourite responsibly and hand-made interior products that will give your home a complete make-over. Discover lightning brands, luxury towel labels, home accessories, and hand-woven carpets that will change your perspective on craftsmanship!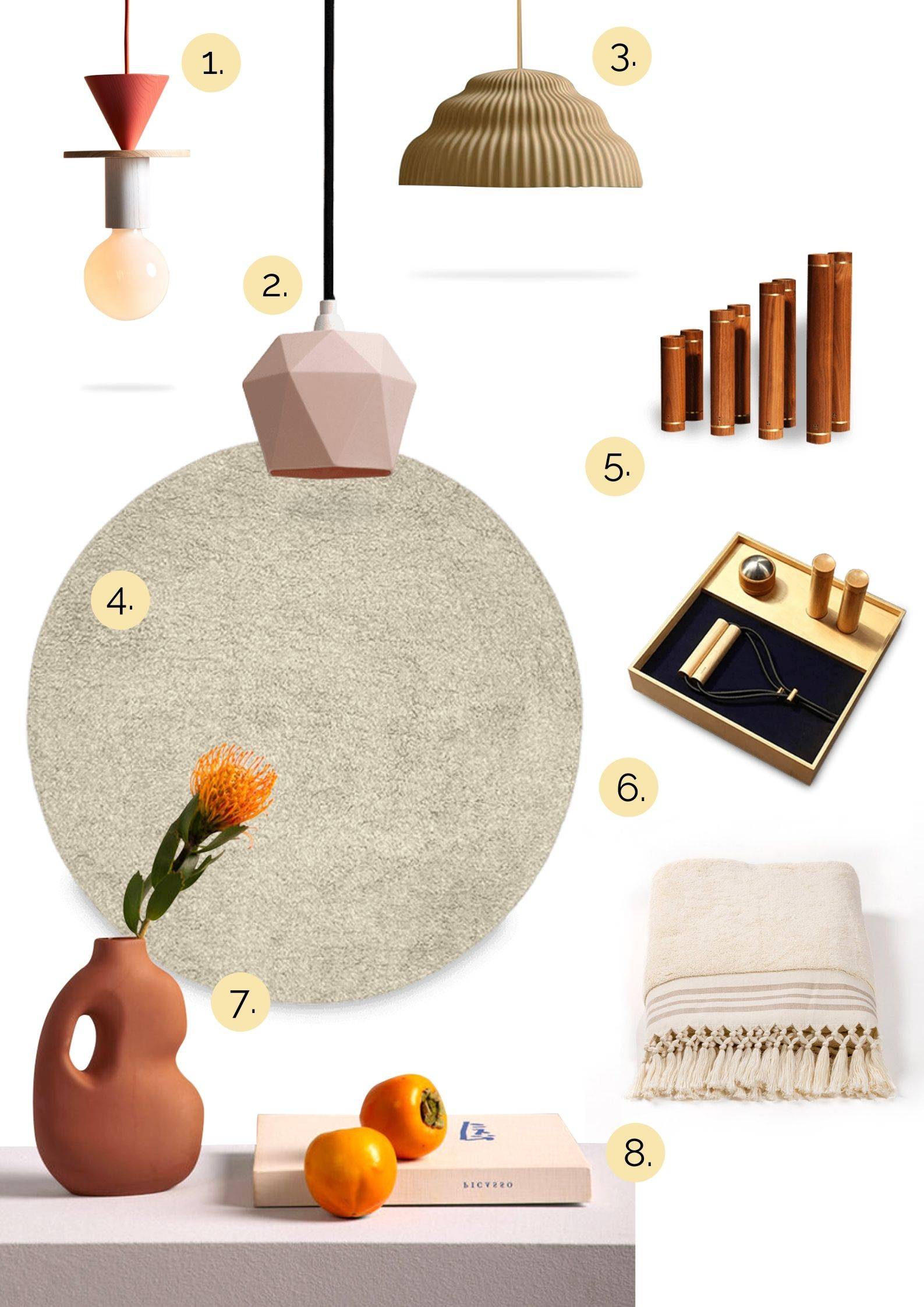 GANTlights is the award-winning Berlin-based interior brand specializing in hand-made lamps made from concrete. The concrete lamps are mixed with materials such as wood, marble, or precious metals. The label's minimalist designs are inspired by urban architecture – and so is Stefan Gant. The founder of GANTlights is architect and product designer. He founded the interior brand in 2012. Back then, he himself fashioned every product by hand within his Berlin studio in Rixdorf. However, the demand rose and the brand grew into a network consisting of local handicraft businesses and manufacturers. Even now, every step of the creational process is made in Berlin – from the packaging to each component.

With its extensive education and information about the work procedures of the ceramicist, carpenter, or concrete workshop, the brand shines a light on traditional handicrafts and the artisans behind the product. Each lamp has been created by different hands from real people, each of them, living in Berlin. A GANTlight pendant or wall lamp, thus, is a unique piece of craftsmanship.
With fast fashion, same-day-delivery, and anonymous companies, the work flowing into each product and every brand became invisible within the last decades. We see a carpet and only see its design and affordability. But a carpet is so much more: It is the cultivation of the raw material, it is the workers' hours, it is the long way it came from. As the Berlin-based brand Fable & Loom states: "It is the sum of knots and threads." Especially when looking at hand-made carpets, the meaning of this sentence sinks in. For Fable & Loom, real people hand-make, hand-tuft, and hand-knot natural materials like wool and jute into beautiful and unique carpets. While a hand-woven carpet is made with looms, can be operated by up to three people, and takes a couple of days to some months to make, a hand-knotted carpet is the supreme discipline of carpeting: The fabrication of a single hand-knotted carpet takes several months.
The carpets are made within family businesses in India, betting on high production standards, good working conditions, an eco-friendly approach, and worker's safety. Rachel and Felix Plümer, the founders of Fable & Loom, travelled the world to find and build close relationships with artisans. Together with the skilled craftsmen and -women, the two founders, are developing unique carpet-collections. Each purchase of a Fable & Loom carpet supports traditional craftsmanship and illustrates the value of, not only the product itself but the work behind it.
Since our homes have become office, restaurant, and gym at the same time, design-driven gadgets and devices turned into this year's must-haves and kenko became their pioneer: The German brand was founded by Andreas Bachmann and Fritz Grospietsch, two products designers, who believe in well-designed, thoughtthrough products that are sustainable and made for eternity. kenko is the ethical and aesthetical answer to your home-workout-routine. The brand creates minimalistic sports equipment from natural materials like wood and cork, so they can match the cool look of your living room. With its 'Made in Germany'-approach, kenko guarantees high-quality materials, Japanese craftsmanship, and handmade production. Whether you'll use the kenko items to break a sweat, or put them up on your wall as an art-work, it's your call!
Sensual home accessories that will make you smile and your home shine!
That's Schneid Studio. The Lübeck-based interior brand designs elegant home decor with a twist. Made from sustainable materials and handcrafted by local artisans, Schneid Studio's products are everything our hearts could desire for our homes. "We believe in sustainability and focus on solid craftsmanship. That's why we support local manufacturers, keep supply routes short, and work with people who are passionate about their job - just like us." For Schneid Studio, working sustainably means sharing the vision and raising awareness for craftsman- and artisanship.

From decorative and uniquely shaped vases, streamline light fixtures to unique furniture – all items are created in playful colors and creative shapes. At Schneid Studio, ethics and design come together to form unique objects that will fill your home with warmth and joy.
Etisha Collective is the brand bringing towels onto our minds. While most of us do not think about their towels twice, Etisha Collective made it their mission to create awareness around the bath accessory by creating beautiful, long-lasting, high quality, luxury towels with a sustainable approach. The responsible luxury products' materials can be tracked throughout the supply chain for maximal transparency – guaranteeing organic materials, fair working conditions, and the renouncement of harmful chemicals. The label's motto is to never hurt nature or people with their production processes, which is why Etisha Collective bets on the compliance of the Sustainable Development Goals of the UN, certificates, and fair craftsmanship. With Etisha Collective the traditional Ottoman, 400 year old weaving heritage is kept alive. In the short span of fewer than twenty years, approximately eighty to ninety percent of all the hand-weaving artisans and their knowledge have been lost. Etisha Collective preserves these techniques by producing its towels within small family weaving-businesses in Anatolia. The skills of the last-remaining weavers in the country, internalized the hand-weaving knowledge of various generations. On the base of their special skills, beautiful towels are made for eternity.
Discover more hand-made products here: