Five Faves:
Fair-Trade Classics
5 timeless unisex brands betting on the fair trade approach
These brands are the perfect investment for your closet in many ways: They are high quality, fair trade and made to last. But let's start with the design-aspect of our brand selection. The chosen brands are known for their timeless, elegant, but, at the same time, cool look. Their designs are not linked to trends, but classics everyone should have within their wardrobes. Another interesting aspect of this brand selection is the complete commitment to the highest quality possible. With production facilities based in Europe and highly skilled artisans, the results are beautifully crafted pieces that don't only withstand tastes but also time. And last but not least, this brand curation is sustainable. Every step of their creational process is made with nature and humans in mind – relying on natural processes, and producing in a fair way.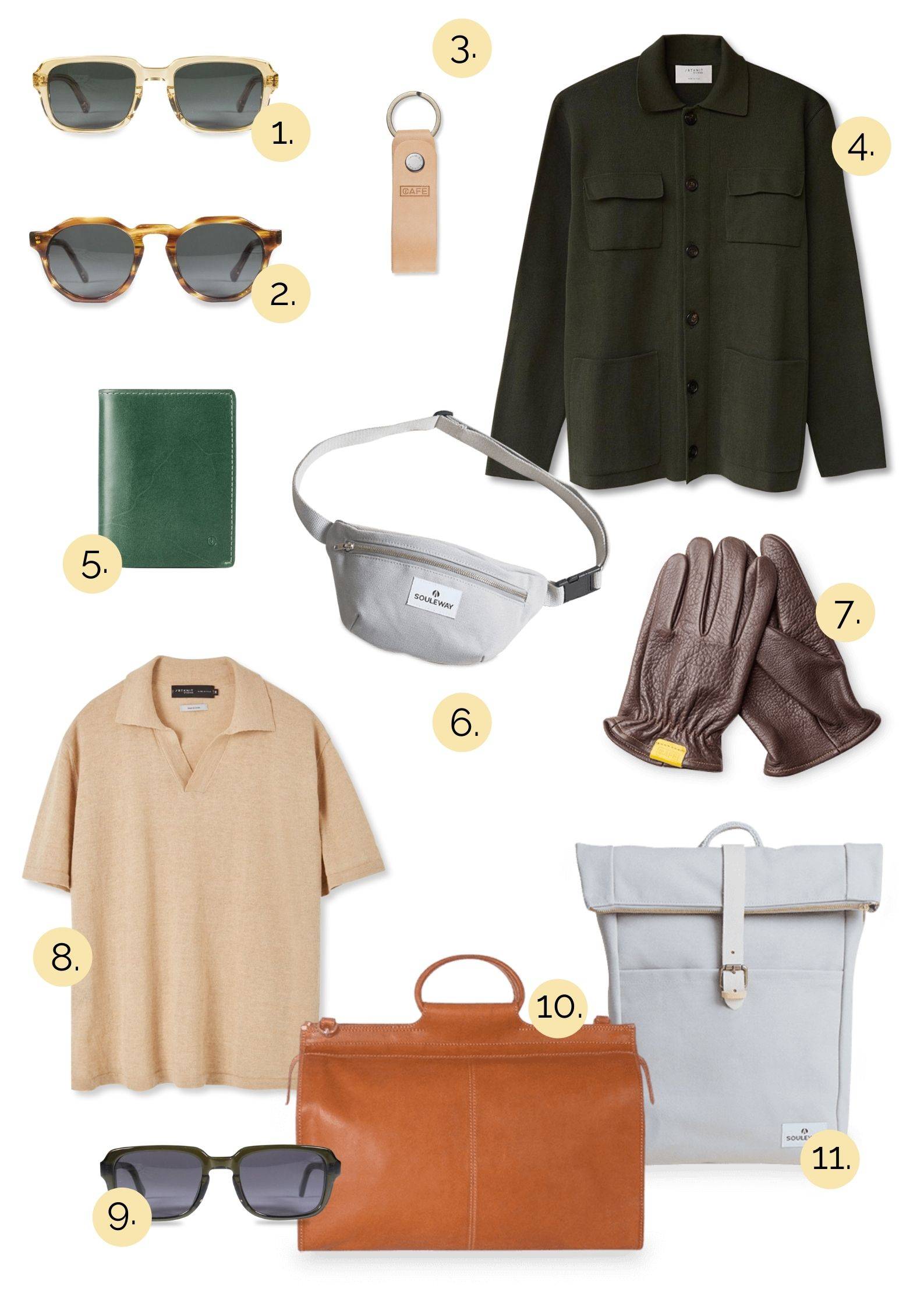 1. Nelson T Sunglasses by Oscar Deen, 153,95 Euro | 2. Pinto Havana Sunglasses by Oscar Deen, 153,95 Euro | 3. Keychain Natural by Café Leather, 25 Euro | 4. | 5. Slim Leather Wallet Green by Café Leather, 109 Euro | 6. Bum Bag by Souleway, 69 Euro | 7. Rascal Lambskin Gloves by Café Leather, 99 Euro | 8. | 9. Nelson Sunglasses Olive by Oscar Deen, 153,95 Euro | 10. | 11. Foldtop by Souleway, 149 Euro
After a year of constant lockdowns, our travel to-do list is longer than your banana-bread-baking track record. We're dreaming of Morocco, of Italy, Bali, or Greece. While we're planning our next holiday in our mind, we already found the perfect travel companion: It's Tosso's. The German brand creates beautiful travel accessories, especially bags, for the modern gentleman and -woman. The bags are hand-made, vegetable tanned, and crafted in Italy from the finest Italian calf leathers. The special tanning process with only botanical ingredients allows the leather to breathe, which in turn, lets the leather develop a beautiful patina over time. The traditional, family-owned production facilities are based in Tuscany, taking care of the highest possible quality of the leather products. By cutting out middlemen and resorting to the direct-to-consumer approach, Tosso's is able to sell the same premium products renowned luxury brands sell, for a more affordable price. This retail model also allows the brand to invest even more into quality and the wellbeing of the brand's workers and animals – for a conscious mind, and even more relaxing holidays.
Another classic you shouldn't miss in your wardrobe – whether it's winter or summer – is high quality knitwear. Artknit Studios is the Italian brand producing luxury knits for men and women, that have been produced in the world's prime manufacturing capital for wool products, in Biella. Artknit bets on ethical production, sustainable practices and natural fibers. With their direct-to-consumer approach, Artknit wants to save the traditional retail mark-ups to pass them on to the consumer. With that approach, Artknit is among some innovative brands rethinking the retail system and democratizing the luxury market. The label provides access to premium quality clothing made by the best Italian manufacturers at an affordable price. Additionally, Artknit's fibers are spun by certified mills only, the brand reduces their distances within the supply chain, and, thus, their Co2 emissions. Your new favourite jumper is not only made from the softest wool findable, but with writing out 'Sustainability' in bold letters.
Another amazing leather brand that gives us holiday vibes, is Café Leather. The Spanish brand creates unique, high-quality pieces for longevity. Their elegant wallet in green, their sophisticated cufflinks with leather applications, or their cool racing gloves, are the ideal matches for your chic weekend getaway. Handcrafted by the best artisan's hands in Spain, Café Leather creates vegetable tanned leather accessories that are made to last. Natural, environmentally friendly, respectful to nature and humans. The brand's philosophy is based on the "search for authenticity, a passion for the small detail, and respect for well-made things." We suddenly feel like taking a short trip to Barcelona, Madrid, or Sevilla, to drink some well made coffee, eat some tapas, and enjoy the best Spain hast to offer – including some Café Leather items.
We are all about clean lines and thought-through design. And so is Souleway: The Hamburg-based brand creates travel accessories for the urban explorer. White, green, and grey canvas from 100 percent organic cotton meets Italian vegetable tanned leather and equals your new sustainable best friend. With a supply chain striving for complete transparency, Souleway is your go-to brand for responsible, and conscious backpacks. The label's production is based in Germany, which does not only guarantee high quality, but also fair working conditions and payment. Every Souleway product has been hand-made in Hamburg, guaranteeing a slow fashion approach and longevity.
It slowly seems like summer might come by for a three-month visit, after all. If this news caught you as off guard as us, you might need to update your wardrobe for the warmer days. We found the perfect fit for this mission: Oscar Deen is the London-based sunglasses brand, turning vintage models into modern styles. The two founders travel the world, searching within dusty warehouses and at hidden flea markets for the most inspirational frames, to later turn them into models matching our time and taste. The cool but timeless frames are hand-made from organic plastic, the so-called Mazzucchelli acetate. Created in Italy by skilled and fairly paid craftsmen, the Oscar Deen sunglasses are made to accompany you through your whole life. The glasses even come with a lifetime warranty – so you can enjoy them every summer!
SHOP THE WHOLE COLLECTION