Behind the Scenes with USISI SISTER
When you have a sister or a brother, you might understand the problem of unwanted "closet sharing ". Fighting over the favourite blue blouse or the new jeans shorts can be tough and mostly ends in tears and ripped clothes.

The two sisters Kathryn and Millie Allsopp worked out the struggles of the family-fashion-war. Despite their age difference they often found themselves buying the same pieces only in different colours. Instead of kicking and screaming, they focused on the bright side of similar taste and founded the new hype of London's fashion world: USISI, which means sister in Xhosa, one of the South-African languages. This is what makes the innovative fashion label so special: the celebration of sisterhood.
The Allsopp sisters create timeless clothes with a touch of classic coolness, catching London's street style. The designs are influenced by the modern and feminine power of the twenty-first century and express strength and beauty. Every product is manufactured in two colours with sustainable fabrics such as the Edna Jumpsuit, which is the perfect outfit for a summer night garden party. Their leather bags have an artistic shape, that reminds of a modern art sculpture by Barbara Hepworth, combined with special details, like the snail-shaped horn handle and natural colours.
In June 2019 USISI SISTER launched with retail partners Browns Fashion and Moda Operandi. The collection was created in London and produced in fair trade factories all over the world, that meet the highest ethical standards for workers.

Besides their intention to make us wear gorgeous designs, Kathryn and Millie want to raise awareness for climate change. The reduction of environmental pollution is highly important to them. USISI SISTERs guiding principle says: " Less is more; less consumption, more consideration, less waste, more repair." Therefore, the sisters work with organizations like Offset Earth and the Eden Reforestation Project, to ensure the decrease of carbon from lovely mother earth. Furthermore, they use only strictly biodegradable packaging to send out their pretty items into our welcoming hands.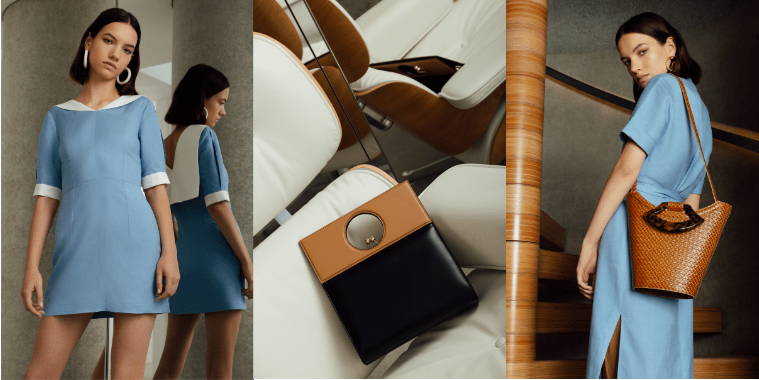 USISI SISTER is for every woman across the globe, celebrating her similarities and differences, her individuality, and diversity. So, next time you'll fight with your sister, we hope it will be about USISI SISTERs black Consti leather bag.