20 Minutes with Zucker&Jagdwurst
Talking vegan stereotypes, comfort-food and culinary change with Zucker&Jagdwurst
Isa and Julia are taking veganism to throw it in every prejudice's metaphorical face. Vegan food is always healthy, never filling and usually green? The Zucker&Jagdwurst bloggers dispel these myths with comfort food recipes every picky child with a vegetable-aversion would love. Between waffles, Russian "Zupfkuchen" and pancakes in every variation imaginable we can find hearty dishes that appeal to our cheat-day-selfs like dumplings, quesadillas and bolognese or lighter and healthier versions, such as coconut soup or a fresh rice noodle salad. Get inspired on their Instagram account or have a scroll through the blog. And if you're developing a warm sympathy for the two former Mit Vergnügen editors, like we do, you might want to listen to them talking about vegan Christmas, nutrient deficiencies or substitute products at big fast-food chains in their podcast.

Or just read through our interview with the two culinary bloggers. We talked with them about vegan stereotypes, doing one's best and reinventing theme park and airport food. Additionally, they unpacked their favourite recipes for every occasion.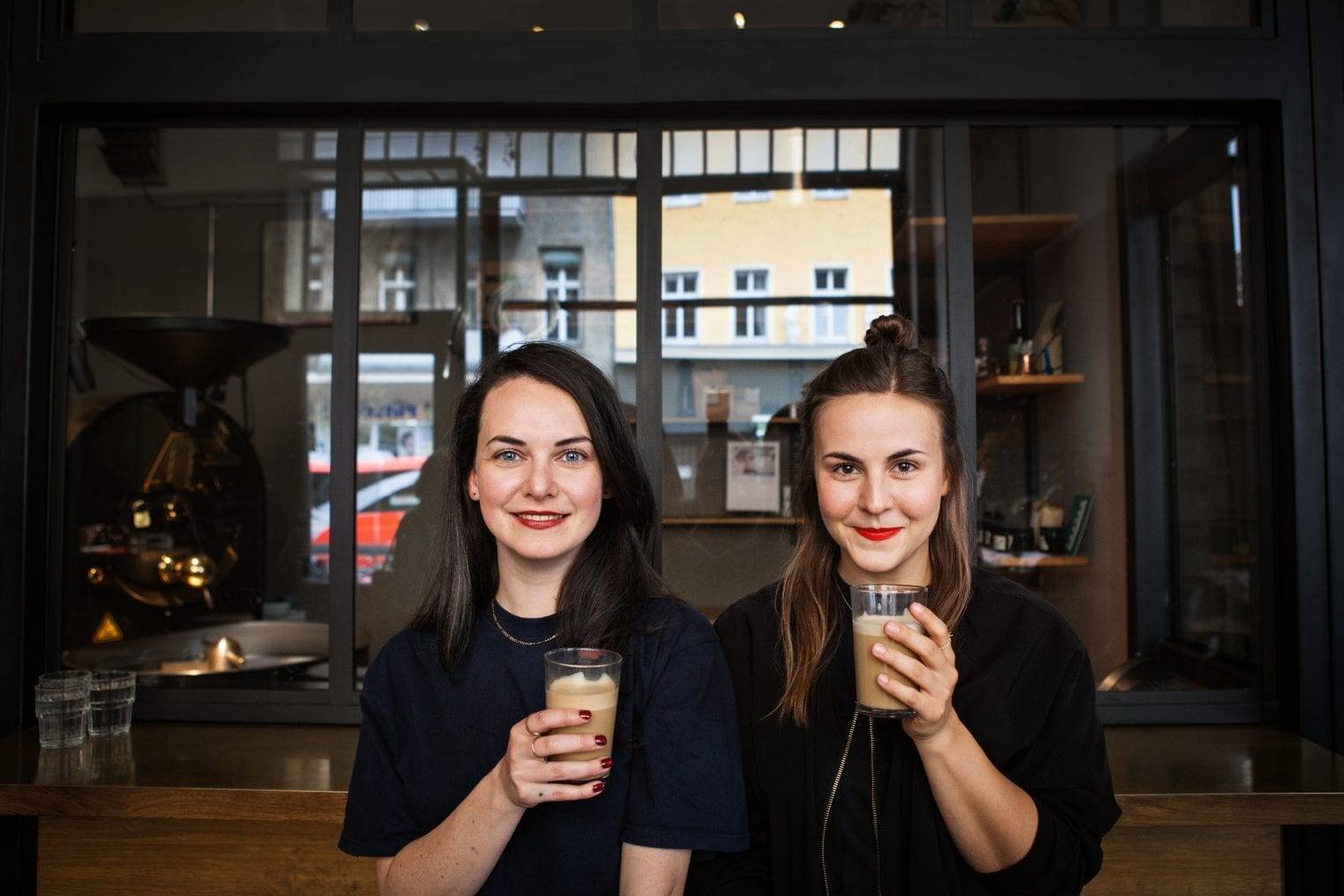 Nele Tüch: You have the vegan food blog Zucker&Jagdwurst and a podcast that counters vegan stereotypes. What's the stereotype you had to hear most often?
Julia: I actually (and luckily) don't hear that much about stereotypes, but I'm afraid this is my bubble only. We're very lucky that our followers get our sense of humor, so we don't have to explain why we're cooking vegan comfort food and don't eat salad only (which is one stereotype). I guess the one stereotype that is kind of funny (but not really true) is that you'll always recognize a vegan because he/she will tell you right away.

Isa: I switched to a vegan diet seven years ago, and especially in the beginning, I had to discuss it a lot with my family. I guess most of the young people don't have strong stereotypes about a vegan diet, but older people still have, and that's totally fine because they grew up in completely different conditions. My grandma used to say: Meat is a piece of life power.

NT: Food trends, and thus, the food industry, changed dramatically within the last ten years – first biological and ecological, then vegetarian, seasonal, local and also vegan food made it into the Western mainstream. What's the next step the industry has to take?
Julia: I'd actually hope that politics would go the next step to make sustainable choices for our planet more accessible. There are a lot of start-ups and companies that came up with great ideas but it only helps that much since plant-based options are very expensive, so that not everyone can even afford them. So maybe let's start by subsidizing climate-friendly products and reducing the taxes of plant-based milks to 7% instead of 19%. (And while we're at it, please also kick the extra charge for plant-based milk in cafés.)
NT: I feel that vegans oftentimes have to justify not only their eating habits but a lot of times also other lifestyle choices à la "you're vegan but you're travelling the world, how does that fit together?" – how do you oppose such thinking?
Julia: Well, first I actually think about it to find out if someone's got a point there. Maybe I'll think 'True that! I should consider this again and maybe change something.' But what I find really strange is that this argument is often addressing people that are actually doing A LOT already – women like Luisa Neubauer or Madeleine Alizadeh. These women are true lights of inspiration for so many people, they are dedicating a lot of their time to help to make the world a better place, and still they have to react to these 'assaults' when they are not acting 100% perfect. So I'd rather say: maybe let's have more trust in people that they are actually doing their very best, even if it's not 100%, because that is just very difficult in today's world. If everybody would at least do a little bit, we'd already go a long way instead of fighting each other.
"You just want to tell them: vegans don't always want to eat quinoa salad. There are way easier dishes and snacks to offer that even non-vegans would enjoy."
NT: What would be your dream project or cooperation?
Julia: I always think that it would be great to work with big companies or places (like an airport or theme parks) to discuss how they could improve their plant-based and sustainable range. Sometimes you're seeing them doing ambitious things and you just want to tell them: vegans don't always want to eat quinoa salad. There are way easier dishes and snacks to offer that even non-vegans would enjoy.

NT: When did you first realize that Zucker&Jagdwurst could be more than a personal love project?
Julia: I guess when "strangers" started to cook and comment on our recipes. Before it was rather a place for friends, family, and ourselves to quickly access our recipes when there was a birthday party. And suddenly there were people we didn't know that commented 'Thanks for the recipe, I'm currently trying to go vegan and your blog helps a lot.' That's really motivating.

Isa: I think I still don't realize how much people are visiting our blog everyday, haha. I guess it's a way of self-protection because, in my brain, there are only two people reading our blog – Julia and me. I think the first time a stranger came to us and said that he/she loves Zucker&Jagdwurst was showing me that it's more than our personal project. And it was, of course, kind of weird.
Isa: When we started our blog in 2016, we thought: "The craziest thing ever would be working with XY". And two or three years later, we worked with that company. Then we thought: "The craziest thing ever would be working full time for Zucker&Jagdwurst". And we also check-marked this point. I am extremely thankful for that.

But I think the most important thing for us is to show people that switching to a vegan diet isn't that hard and that you can still enjoy most of your favourite meals. Working full-time for Zucker&Jagdwurst and some bigger projects in the past were important checkpoints for us. But my biggest wish for the future is to help more people go vegan and, in this way, to make a small contribution to the environment and the climate.
NT: As your own bosses, how does your typical day look like?
Julia: After four years of working on Zucker&Jagdwurst parallelly to my full-time employments, I just started doing it full-time. So right now, it's an exciting time for me to find out how I'm actually structuring my working days. Before, it was night shifts and weekends full of cooking and working.

Isa: I started working full-time for Zucker&Jadgwurst in October 2019 when I finished my master's program. I tried to structure my days, and am still working on it. I normally spend one to two days a week in the kitchen and have three to four office days for writing blog posts, editing pictures, writing emails, sales, etc. The best part (and maybe also the hardest part) of this job is being editor, photographer, sales manager, project manager, and website designer at the same time.

NT: Your favourite recipes – for weeknight-dinners, for lunch at work, for guests, for cold days, and for hangover days?
Julia: That's a tough one. For weeknight-dinners, I'd maybe go for the classic German Brotzeit. I found these so boring when I was a child, but started to love them again in the last years. Berlin has so many great bread bakeries and suddenly there's vegan cashew camembert and other fancy stuff that can make a Brotzeit very special somehow. For lunch at work, I think Kartoffeln&Quark are one of the quickest options (and I just love this dish). For guests: vegan bolognese is something everyone loves. And for cold days… noodle soup maybe? For hangover days, I definitely prefer healthy food instead of eating greasy fast food. I always feel better after drinking green juice.
NT: What are the most exciting food places in Berlin right now?
Julia: I am all into Chungking Noodles, although I guess it's not an actual "new restaurant". I've gone to their pop-up spots, tried their vegan dishes on food fairs, and I was beyond happy when they opened their own restaurant. If you like spicy food, definitely go there!

Isa: At the moment, it's more exciting for me to go to the supermarket / organic market and to have a look for the vegan products there. In Berlin, you can buy fancy things like vegan fish fingers, vegan duck, vegan shrimps and more in the supermarkets - never thought that seven years ago.

NT: What was your biggest revelation in the last months and weeks?
Isa: It sounds stupid, but it's absolutely true: Hard work pays off. So always keep on going!
NT: Personal leeway (=Freiraum): What does it mean for you and where can you find it?
Isa: Since working full-time, I try to spend one hour every day just with myself. I use this time for sports, going for a walk or having a long break and a nap after lunch. Sometimes it works quite well and sometimes it doesn't but that's totally fine.

Julia: After working quite a lot in the last years, I just started to conquer personal leeway during the last months. I forgot how to feel bored somehow but I think that this would be a good starting point to find it.
You can find more interviews like the Zucker&Jagdwurst interview here!